Investor Overview
About MGIC Investment Corporation
We are the parent company of Mortgage Guaranty Insurance Corporation (MGIC). MGIC provides products and services that protect mortgage investors from credit losses. This critical component of the nation's residential mortgage finance system helps families achieve homeownership sooner by making affordable low-down-payment mortgages a reality.
View all
Presentations & Webcasts
May 8, 2020 at 9:00 AM EDT

Q1 2020 MGIC Investment Corp. Earnings Conference Call

Supporting Materials

Apr 23, 2020 at 9:00 AM CDT

MGIC Annual Meeting of Shareholders

Our Annual Meeting of Shareholders will be held on Thursday, April 23, 2020 at 9:00 a.m., Central Time in a virtual meeting format only, via live webcast. We have changed to a virtual meeting format due to the ongoing public health impact of the coronavirus disease 2019 ("COVID-19") outbreak and to support the health and well-being of our associates and shareholders. If you were a shareholder as of March 6, 2020, you may attend the Annual Meeting by accessing https://www.virtualshareholdermeeting.com/MTG2020 fifteen minutes before the start of the meeting. You must enter the control number found on your voting instruction form, other notice or replacement proxy card, as applicable.
View all
View all
Read more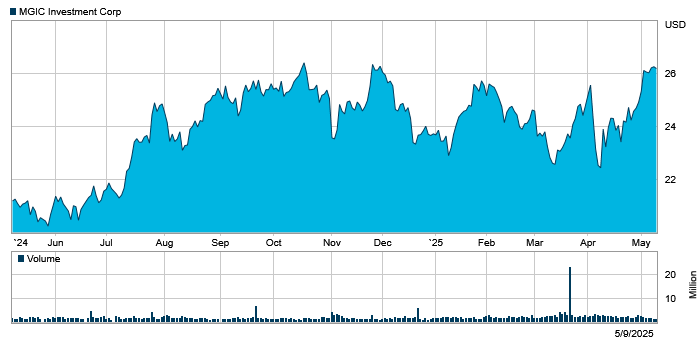 Data Provided by Refinitiv. Minimum 15 minutes delayed.
Learn more